If you're not sure if your tickets have been sent yet, this is the place to check! We'll try and keep you up to date on all the big events coming up in the Ireland & Northern over the next few months.
Ticketmaster endeavours to dispatch tickets as soon as possible, generally within 2 working days of your purchase being made.
My tickets have been sent – so why don't I have them yet?
If you chose standard post, please give it until 3 days before the event for your tickets to arrive – even once they've left us, it can sometimes take a little longer than expected to get to you through the post. Don't worry though – if they still haven't arrived by 3 days before, just get in touch here and we'll make sure you gain entry.
I wanted to give these as a gift!
You can upgrade to Speedy Dispatch which includes a Gift Wallet for €4.75/£3.95 per order - Contact us here
Or you can still surprise your loved ones and kick off the build up to the event by creating your very own official Ticketmaster Gift Receipt.
If you chose the TicketFast print at home option at the time of booking, please click here for further info!
For some events, the postage of tickets is delayed, either at the request of the promoters or due to circumstances beyond our control. In the event of a large-scale delay of tickets, we will publish updated information through this service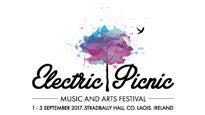 ELECTRIC PICNIC 2017
Stradbally Hall, Co. Laois
We'll be sending the tickets out ina couple of weeks , we'll update this page to let you know. The latest you should expect your tickets is around 5 days before the show, but we always aim to send them out sooner than that wherever possible.
114,000
115
CONTENT